Benefits:
Rebalances and improves your dog's gut health
Supports gut function by nourishing beneficial bacteria
Combines probiotics and prebiotics to balance your dog's gut
Recommended for daily use
Why Embark
Offered in partnership with AnimalBiome, leaders in canine microbiome research
Veterinarian recommended
Grain-free
Frequently bought together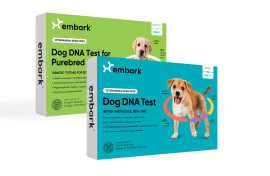 Product details
Active ingredients
Safe and all-natural
Dosage
Measured just for dogs
What's inside
60 gram jar
Healthier stools
I am very pleased
Great probiotic and prebiotic
FAQ
Is this supplement right for my dog?
How long should my dog stay on this supplement?
Can I continue my dog's other supplements and medications?
Are there any risks associated with this supplement?