Shipping and returns
Priority shipping available
Embark and AnimalBiome
Our partner in dog health
Benefits:
Restores digestive and immune health
Fast-acting and gentle
Promotes healthy skin and coat
Supports well-formed and easy to pass poop
Frequently bought together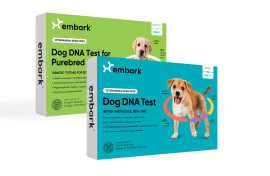 Breed + Health DNA Tests
Regular Price

$199
Sale Price

$159
Offered in partnership with AnimalBiome, leaders in canine microbiome research
Backed by 20 years of research on animal-microbial interactions
How it works
Beneficial microbes
Achieve a balanced state
Convenient capsules
Restore and maintain
Improvements over time
A happier, healthier gut
Results you can see
This product likely saved our puppy's life!
We're all happier'
FAQ
What is a fecal microbiota transplant?
What are Gut Restore/FMT capsules (poop pills)?
How can the Gut Restore Supplement improve my dog's health?
Where do you get the material for Gut Restore Supplements?
Is this supplement right for my dog?
Will this supplement help my dog?
Can I open or crush the capsules to mix the powder into the food?
Can I continue my other dog's supplements and medications?