Insights include:
Your dog's estimated age and birthday
Life stage information developed by veterinarians
90% of dogs have a true birthday within 18 months of their estimated birthday
Why Embark
Comparable to the most accurate methylation clock models available today
Life stage insights developed by leading veterinarians
Every dog tested can contribute to aging research that will help dogs live longer, healthier lives
Frequently bought together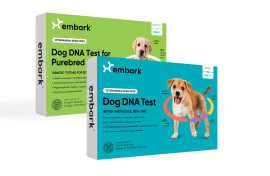 How it works
1. Swab

Gently swab the inside of your dog's cheek pouch and under the tongue to collect saliva for at least 60 seconds. Get that swab nice and slobbery!

2. Activate & mail

Activate your kit online and return your sample. Shipping is free within the US, so drop the pre-paid mailer in any USPS box and it's on its way.

3. Results within 4-5 weeks

We'll do the rest and notify you by email when the results are ready. Log in to your account to learn all about your pup's age estimation and care suggestions!
FAQ
How is the Age Test different from other Embark DNA tests?
What will the Age Test tell me?
How do I know the Age Test is accurate?
What happened to the previous Age Test from Embark?
Do I need to swab my dog again if I've already used an Embark DNA test?
Why is the turnaround time for the Age Test longer than Embark's other DNA tests?
How will my dog's results contribute to research?