Features:
Fast turnaround: Results 2-3 weeks after we receive your sample
Detailed results: Get a report of your dog's oral microbiome
Personalized recommendations: Learn whether your dog's current oral health regimen is working or if a trip to the veterinarian is recommended
Track progress: Retest to measure how your dog responds to an oral health intervention
Why Embark
Offered in partnership with AnimalBiome, leaders in canine microbiome research
Powered by world-class microbiome sequencing
Backed by 20 years of research on animal-microbial interactions
Frequently bought together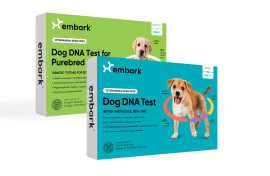 What you'll learn
Detect bacterial imbalances
Easy, at-home testing
Learn and intervene
Restore and maintain
Improvements over time
A more balanced oral biome
How it works
1. Collect a saliva sample

The microbiome test kit includes everything you'll need to collect a saliva sample from your dog's mouth.

2. Activate & mail

Activate your kit online and return your dog's sample with the prepaid envelope.

3. Results in 2-3 weeks

Using DNA sequencing, we identify the types and proportions of all the bacteria living in your dog's mouth and compare it to our healthy reference set. In about two weeks, you'll receive an email notification that your test results are ready.
FAQ
When is the best time to take an oral sample from my dog?
How do I register my sample?
Is my sample safe in the mail?