Shipping and returns
Priority shipping available
Embark and AnimalBiome
Our partner in dog health
Benefits:
Clinically shown to improve immune function
Reduces inflammation
Antioxidants support long-term health
Promotes beneficial gut bacteria and supports gut microbiome function
Maintains stool consistency and frequency
Frequently bought together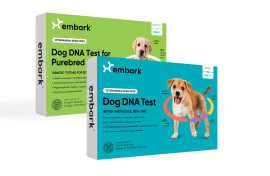 Breed + Health DNA Tests
Regular Price

$199
Sale Price

$159
Offered in partnership with AnimalBiome, leaders in canine microbiome research
Trout-flavored chews that dogs love
Product details
Unique postbiotics
Elevate immune capacity
Dosage
Measured just for dogs
What's inside
Approximately 120 chews*
Dogs love it
Wonderful product for Fluffy and her loved ones!
Loves these chews
FAQ
Is this supplement right for my dog?
How long should my dog stay on this supplement?
Can I continue my dog's other supplements and medications?
Are there any risks associated with this supplement?
Does the palm oil ingredient come from sustainable sources?